Suite à  la suppression des 
RENCONTRES INTERNATIONALES
DE MUSIQUE CONTEMPORAINE – M e t z ,
Claude Lefebvre a pu poursuivre ses ambitions à  Forbach – également en Lorraine –
avec  »rendez-vous musique nouvelle », un Festival plus réduit cependant,
dont il a assuré la direction artistique pendant huit ans.
Aussi bien pour le Festival de Metz que pour Forbach,
sa femme Ingeborg aura été la plus précieuse associée.

Voici le communiqué au sujet de la cessation 
de ses activités à  Forbach, en mars 2004: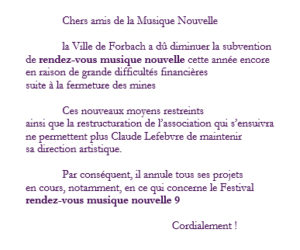 La fin de cette dernière aventure du genre,
        lui permit dorénavant de consacrer
        plus de temps à  son travail créatif.
        Claude Lefebvre continuait  à vivre 
        dans la Région de Lorraine.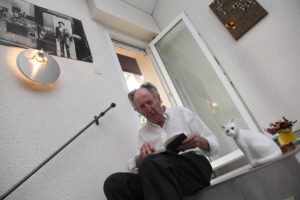 Nach Auflösung der  INTERNATIONALEN BEGEGNUNG
ZEITGENÖSSISCHER MUSIK – M e t z ,
konnte Claude Lefebvre seine Ambitionen in Forbach – ebenfalls Lothringen –
weiterhin umsetzen, und zwar im Rahmen von  »rendez-vous musique nouvelle »,
einem allerdings kleineren Festival,
dessen künstlerische Leitung er acht Jahre lang gewährleistete.
Sowohl für das Metzer Festival, wie auch für Forbach,
war seine Frau Ingeborg die wertvollste Mitstreiterin.
Hier das Kommuniqué, was das Einstellen seiner Tätigkeit in Forbach,
im März 2004 anbetrifft :
Die Beendigung des letzten Abenteuers der Art
erlaubte ihm nun, seiner kreativen Arbeit mehr Zeit zu widmen.
Claude Lefebvre lebte, nach wie vor, in der Region Lothringen.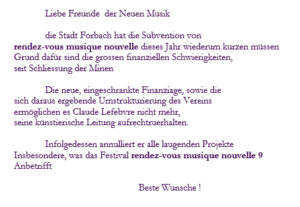 Following the elimination of the INTERNATIONAL MEETING
OF CONTEMPORARY MUSIC – M e t z ,
Claude Lefebvre pursued his ambitions at Forbach – also in Lorraine – 
where he assumed the artistic direction of  »rendez-vous musique nouvelle »,
a smaller Festival, however, during eight years.
As well for the Festival of Metz as for Forbach,
his wife Ingeborg was the most precious associate.
Here is the communiqué concerning the cessation
of his activities at Forbach, in march 2004 :
Ended the last adventure of the kind,
permitted him now to devote more time to his creative work.
Claude Lefebvre still continued living in the Region of Lorraine.